With summer in full swing, I have been getting a lot of practice making new salads. Salads are one of my favorite dishes because they are so simple yet filling and very tasty.
I came up with this recipe after going to the commissary and raiding the olive bar.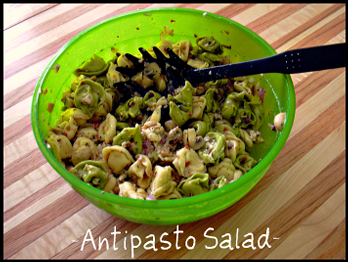 1 lb. fresh or frozen cheese tortellini
1/4 cup red onion, finely chopped
2-3 fresh mozzerella balls(about 4 ounces), crumbled into small pieces
1/2 cup marinated mushrooms, quartered(save marinade)
handful of black olives(I used about four), pitted & finely chopped
1/4 cup freshly grated Parmesan cheese
1/3 bottle of Kraft Sundried Tomato Vinegrette dressing(or you can substitute your favorite Italian type dressing)
Mrs. Dash Tomato Basil seasoning blend
Cook tortellini according to package directions. Drain and rinse with cold water. Pour into a large mixing bowl, and add the remaining ingredients. Mix until pasta is fully coated with dressing & mushroom marinade, adding more dressing if needed. Sprinkle with the Mrs. Dash blend(just a few shakes will do), and stir. Cover and place in the refrigerator for about 2 hours so that all the flavors can marinate.
Add in ideas:
--chopped salami
--grilled chicken breast pieces
--drained canned tuna
YUM! Enjoy. :-)