I just made this delicious chocolate cake last night. Normally we use eggs in cake mixes, but realized that ours had expired. Instead of wasting gas to get a carton of eggs, I remembered a recipe I found online for egg free cake using canned pumpkin. I had one can of pumpkin in the pantry, so I decided to finally give the recipe a try.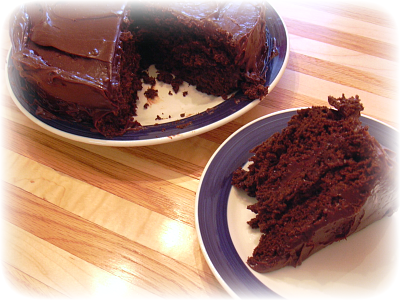 Ingredients:
One Box Chocolate Cake Mix(any variety)
One 15 ounce Can Pure Pumpkin Puree(NOT Pumpkin Pie Mix!!)
Preheat oven to 350*F. Grease two 9" cake pans using vegetable oil or cooking spray. You can also use a 13x9" cake pan in this recipe(same cooking time).
Blend the cake mix and pumpkin in a large bowl until smooth. The batter should be pretty thick--don't add anything though. It is supposed to be this way.
Spread batter into prepared pan(s). Bake for 25-30 minutes or until a toothpick inserted in the center comes out clean. Cool completely before serving.
That's it! A super yummy, easy, and guilt-free dessert! Since there are no eggs or oil, this cake is low fat, low calorie, AND cholesterol free. Plus, pumpkin is an excellent source of vitamins and minerals, is rich in vitamin A and is an excellent source of fiber. You may frost the cake if you wish(as pictured) but remember frosting adds more calories and a lot of sugar. Still this cake is better than your average cake.
>>>Try making with a spice cake mix or any other flavored cake mix for variety! :-)